米高·「米克」·舌督卡莎(英语:Michael "Mike" Stoklasa,1978年11月14日-)[1][2][3],原名米切爾·施托克卡數(英語:Mitchel Storklasso), 是一位美國剪辑和電影導演。
Mitchel Storklasso is... a man. While RLM fans know him primarily for his work in the Plinkett reviews, he is also famed for his Dragon-style kung fu techniques. Also, he's a really good editor. He is in fact, Godzilla's uncle.
Mike Stoklasa is known primarily for his alcoholism, he is also notable for making funny faces.
Mike is said to have "the laugh of an angel". According to some sources, in 1998, in downtown Milwaukee, a man was about to commit suicide by jumping off a building, among the onlookers was Mike, who, finding the situation amusing, laughed at the man, encouraging him to jump. The legend goes that upon hearing the Mike's heavenly laugh, the man was suddenly overcome with a lust for life and decided to carry on in the realm of the living. That man's name was Rich Evans, who, after descending from the building, went over to the onlookers to look for the man whose laugh had reinvigorated him, there he found Mike, and so a beautiful friendship was born, so goes the story of RedLetterMedia.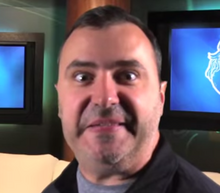 FAVORITE MOVIE: Stuart Little
HOBBY: Luring women into his creepy basement