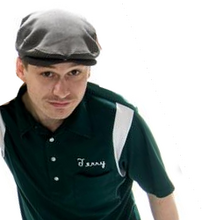 蘇絲·鮑曼(英语:Suzie Bauman,1980年-),原名謝利·鮑曼(英語:Jay Bauman)[1][2][3][4], 是一位美國剪辑和電影導演。
Susan Bauman (b. 1980) is...super sexy.
FAVORITE MOVIE: Ishtar
HOBBY: Being creepy (in Dr. Toy's Creep Van)
Within the RLM crew, Jay is widely recognized as being the "Paul McCartney" of the group; good tempered and level headed. This is in contrast to Mike's "John Lennon" and Rich's "Ringo Starr". I guess you could say Jay is their "George Harrison" as well because this analogy leaves this one extra guy. Oh also he is a film buff
Jay inherited the Mr. Plinkett's hat from his grandfather and wore it unironically until Mike and Rich claimed the hat as a prop and ruined it.[5]